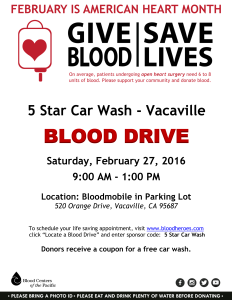 February is American Heart Month
Give Blood | Save Lives
On Average, Patients undergoing open heart surgery need 6 to 8 units of blood. Please support your community and donate blood.
5 Star Car Wash and Detail Center in Vacaville, CA. is hosting a Blood Drive on Saturday, February 27, 2016 from 9:00 AM to 1:00 PM located at 520 Orange Dr., Vacaville, CA. 95687.
To schedule your life saving appointmet, please visit www.bloodheroes.com and click on "Locate a Blood Drive". Enter sponsor code: 5 Star Car Wash
Donors receive a coupon for a free car wash.
Please Bring a photo ID. Eat and Drink plenty of water before donating.
BCP is proud to partner with local businesses like 5 Star Car Wash to achieve our lifesaving mission. BCP is a nonprofit organization that provides blood products to 49 hospitals in Northern California.
Blood Centers of the Pacific is a nonprofit, community-based organization that provides blood and blood components to hospitals, physicians and patients throughout Northern California. It also houses the Blood Systems Research Institute which conducts medical research to improve blood safety and patient care. Blood Centers of the Pacific helps 50,000 patients every year with blood donated by community volunteers…